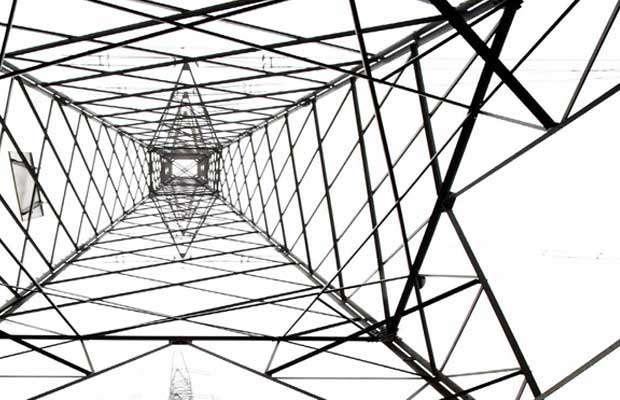 The demand for power is relentless. With technological advancements, mankind is now consuming more power to aggrandize their lifestyle. Many energy experts reckon initiatives like 'Power for All', 'Digital India' and 'Smart Cities' shall be reigned through only increasing and distributing reliable power needs. There has been a prolong discussion on the reliability, security and affordability of electric supply. Last year, the Central Electricity Authority reported that India is cementing its position to become a power surplus nation. For a country accustomed to power shortages, this may appear to be a major step towards reliable electricity supply. But on the other hand, power cuts and intermittency of power supply in rural India is still on the cards.
UDAY – An Economic and Political Freebie for DISCOMs
UDAY was launched by the government in November 2015. It was a programme aimed at financial turnaround and revival of electricity distribution companies in India. The idea was to rework the Rs 4.3 trillion (Rs 4.3 lakh crore) debt of power distribution companies (discoms). the government's Ujjwal Discom Assurance Yojana (UDAY) is proving out to be reaping better results, as compared to the earlier financial restructuring packages. The improvement in the financial health of state power distribution companies (discoms) must be evaluated in their long term efficiency improvement and not short financial gain. Introduced to turn around the health of debt laden discoms, the scheme projects better improvement in the operational performance, compared to the previous schemes. However, the financial performance still remains lower, according to the study done by India Research and Rating Company (Ind-Ra). With the reduction in the interest costs and power purchase costs, 'green shoots' have emerged. Chhattisgarh discom turned profitable in the first quarter of 2016-17, while Gujarat increased their profitability in Apr-Dec 2016-17. Similarly, Haryana discoms turned profitable in second quarter and third quarter 2016-17. While a performance turnaround is witnessed due to UDAY, there is a diversified performance portfolio with varying degree of success by different discoms with reference to the targets.
Co-author of 'The Singapore Blue Chips' writes that Eight States borrowed Rs. 989.6 billion under UDAY during 2015-16. UDAY resulted in the annual growth of debt accelerating to 17.4 per cent in 2015-16 and 13.5 per cent in 2016 from 9.4 per cent in 2014-15.
Market borrowings finance 85 per cent of States' GFD. The high reliance on market borrowings threatens the sustainability of State finances as higher borrowings raise yields and the cost of debt. The low, albeit rising, ratio of capital outlay to GDP is yet another adverse consequence of market borrowings financing GFD. The declining trend in GFD excluding UDAY as a percentage of GDP, is no consolation. The Fourteenth Finance Commission (FFC) recommended that the fiscal deficit of all states be anchored to an annual limit of 3 per cent of GSDP for the award period (2015-16 to 2019-20). States with a zero revenue deficit, a contentious issue, and debt to GSDP of less than 25 per cent and interest payments to RR of less than 10 per cent may clock a fiscal deficit of up to 3.5 per cent! In other words, the FFC sanctions States with a modicum of fiscal responsibility to adopt lax practices.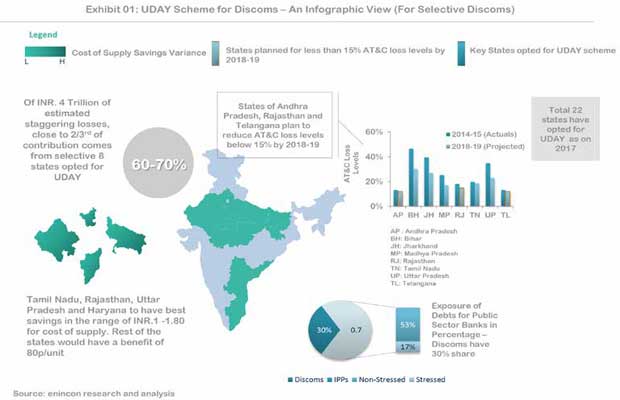 States welcomed the recommendations with gusto. Excluding Telangana, the annual liability growth of five non-special category states, none of whom had issued UDAY debt, accelerated in 2015-16 and 2016-17. The five States are Odisha, Madhya Pradesh, Tamil Nadu, Maharashtra and Gujarat.
Ministry Reshuffle and New Challenges of Fortune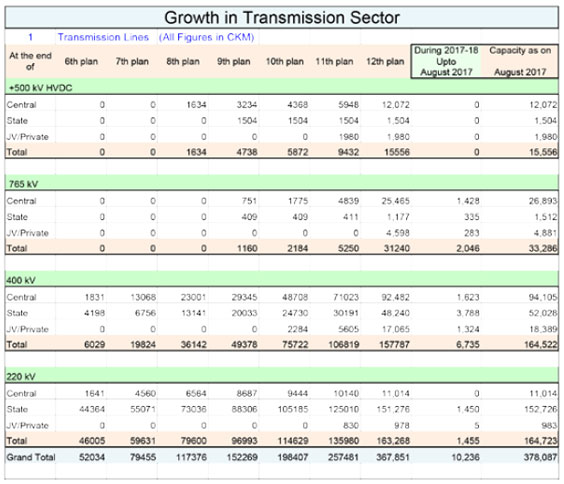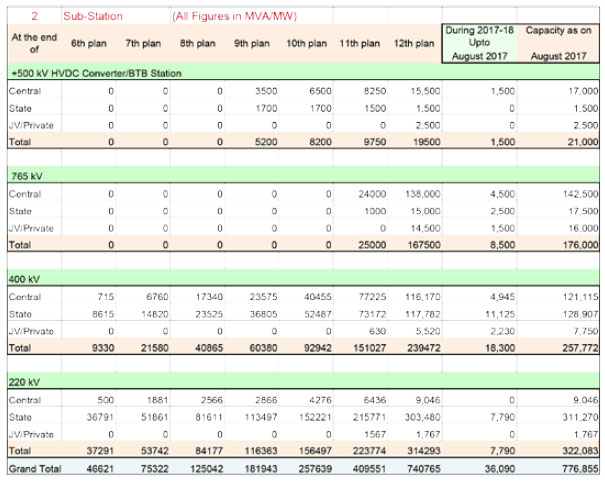 Union home secretary RK Singh has been appointed as the new power minister is likely to face few snags in the new sector. The biggest challenge will be that 'Can he power India?' In three years, the sector has seen a major shift from supply deficit to demand deficit. Singh has dual task at his hand – to meet the high expectations which Goyal has left for him and to keep the states on the verge of propositional growth in the power sector. Having faced ground level challenges in electricity supply at the beginning of his career, Singh would be expected to work along with the states. Some of the flagship schemes dear to PM Modi such as rural electrification, 175 GW of clean energy by 2022 depend on states improving their finances and operations. One of the major challenges would include reviving power demand as well as a resolution for stressed assets in coal, gas and hydro-based projects. Coal alone has 34 stressed assets with a debt of about 1.77 lakh crore. Another big area that requires government's attention is to take measures to bring in operational efficiency in the state-backed discoms. UDAY schemes have been one of the biggest achievements of the government but making it operational without losses will be crucial for 2019. According to a report, the separation of content and carriage under the Electricity Amendment Act, where the consumer will get an option of choosing their own electricity supplier, holds importance as it directly involves the consumers.
Open Market Electricity Tariff
At the India Energy Exchange (IEX), the average electricity tariff for August was Rs. 3.12 a unit (kilowatt hour) with peak tariff touching Rs. 7.91. In the first seven days of September, the average was Rs. 3.34 a unit and maximum at Rs. 8.7 a unit. The electricity sector did not witness such high prices in the last five years. Previously the Southern region used to pay higher prices due to lack of connectivity to the national grid but that anomaly too was removed since 2014. Electricity tariff normally moves up in end-monsoon. In September 2016, the average tariff was Rs. 2.42 a unit, up from Rs. 2.16 a unit in August 2016. Peak tariff increased from Rs. 4.4 a unit to Rs. 4.85 a unit. But this year is different. The average tariff was relatively firm at around Rs. 2.5 a unit beginning June. More significantly, the evening peak hour tariff hovered around Rs. 6 a unit during June-July 2017 as against Rs. 3.5-4 a unit during the same period in 2016.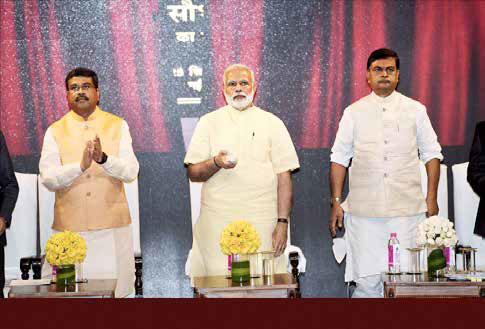 Apparently, reports asserts, this is due to hectic short-term buying by the State distribution utilities (discom) to bridge the peak deficit. The trend gained momentum in August-September with West Bengal, Uttar Pradesh, Telangana, Maharashtra and Bihar emerging as major buyers. Some observers, however, feel that the current surge in tariff is temporary and might have been triggered by unexpected drop in hydel supplies in August. Thermal plants couldn't tap the full opportunity as they maintained low fuel inventory to cut costs.
Is Electricity Companies Power Surplus Really a Challenge?
Most power procurement by distribution companies is done through long term, 25-year contracts with power generating companies. These contracts legally bind the distribution companies into paying the generating company a lump sum annual amount for fixed costs, and a per-unit charge to cover variable costs (mostly for fuel). Distribution companies have to pay the fixed charges even if they do not draw power from the generating company for a particular time period. If such surplus cannot be sold, it is backed down, which means power generators lie idle at that time, incurring fixed costs, but generating no electricity. Surplus power takes place when the available power with distribution companies at a given time surpasses the demand for electricity. A surplus could arise due to a fall in the demand for power, for instance, during an industrial slowdown. Or it could result from an increase in power supply, for instance, when a new generating station is added. Insights from various states show that the burgeoning surplus is more due to an increase in power supply.
Investigating 'Saubhagya'
The Pradhan Mantri Sahaj Bijli Har Ghar Yojana or the Saubhagya scheme promises free electricity connections to all households in India by December, 2018. Under this scheme, he government will fund the cost of last-mile connectivity to willing rural and urban households by December 31, 2018. It aims to provide free electricity connections to over 40 million families in India with a budget of Rs 16,320 crore (US$2.5 billion). The biggest positive aspect of the Saubhagya scheme is that it considers electricity access in terms of households and not villages. India has electrified 96 per cent of its villages and yet there are approximately 300 million people without access to electricity. A village is declared to be electrified if 10 per cent of the households are given electricity along with public places such as schools, panchayat office, health and community centres. Reliable and affordable electricity supply has many benefits that can accrue to the urban and rural poor. In order to provide the same, the government needs to address problems related to actual hours of supply.
Transmission and Distribution (T&D) Cable Market Compiles a Healthy Future
Several market players are providing a wide range of expertise for projects via their skilled personnel including specialist project managers, engineers, environmental consultants, and designers. The planning of consent support, route and site optioneering, grid connection support, tackling environmental constraints and understanding feasibility, and offering smart grid solutions are some major services offered by these companies. According to reports, by 2025, the global power transmission and distribution cable market is likely to be benefited by factors such as enhanced distribution infrastructure, expanding power transmission infrastructure, growing initiatives by the governments across the globe in order to upgrade power transmission units, growing demand for power globally, and rising focus on power generation via renewable sources of energy. These factors are also anticipated to attract investments in the near future. The global market for power transmission and distribution cable is likely to grow at significant rate in the near future and is likely to be driven by the growing investment in the power generation, transmission, and distribution infrastructure developments. The global market for power transmission and distribution cable is anticipated to grow significantly during the forecast period. The primary demand for the power transmission and distribution cable is propelled by the swelling global emphasis on commercialization of power generation through renewable sources of energy. In addition, the incorporation of regional grids to form a national grid driven by the need for a seamless electricity flow across nations is anticipated to augment the demand for power transmission and distribution cables. The high cost of raw material is expected pose a threat to the growth of the global power transmission and distribution cable market. However, the growing demand for high voltage direct current (HVDC) cables and aging T&D infrastructure is anticipated to bolster the growth of the global power T&D cable market. In terms of growth, North America is expected to lead the global market for power transmission and distribution cable. However, Asia Pacific is expected to be a key area of growth on account of lower manufacturing costs of cables accompanied by strong economic growth.
India Power & Distribution Transformer Market (2017-2022)
Reforms such as "Power for all" and plans to add 88.5 GW of capacity by 2017 and 93 GW by 2022 would fuel the demand for power transmission and distribution equipment. According to research and markets, the India Power & Distribution Transformer market is forecast to reach $2.9 billion by 2022. Government is taking major steps to strengthen the power transmission & distribution network and has undertaken initiatives such as UDAY for financial turnaround of power distribution companies. Further, the Government of India has projected an investment of INR 146,000 crore in power transmission sector by FY 2019 to strengthen the transmission network thus increasing the demand for power transformers.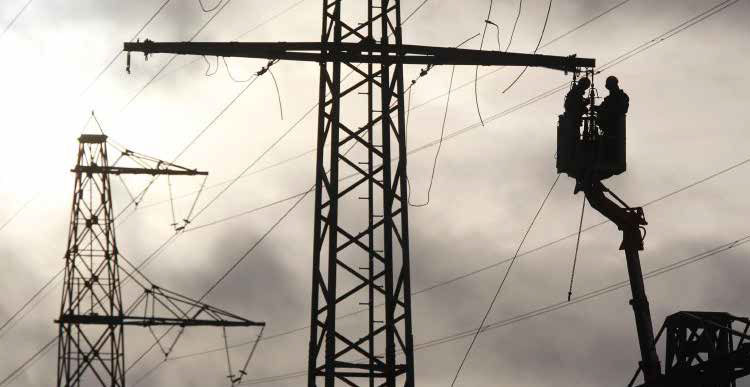 Dubious Future of Open Access in Power
The Electricity Act, 2003, was enacted to enhance efficiency and bring transparency in India's electricity industry and provides a fundamental regulatory framework.
One of the path-breaking policies under the Electricity Act, 2003 was allowing a consumer to purchase power directly from one or more generators/traders by securing "Open Access" on transmission and distribution grids. OA allows bulk consumers (>1 MW) to enter into agreements with independent power producers (IPPs) for procuring electricity via power trading markets. The involved parties would use the existing electricity network by paying a nominal fee, per kWh, to the operators. A consultation paper recently issued by the Ministry of Power recommends increase in charges on similar lines. The paper makes a case that Discoms are at loss on several accounts if their consumers avail OA. According to a research paper, frequent shifting of supplier by OA consumers' results in lack of clarity to the Discom for firming up its power requirement and tying up contracts to meet those requirements. The cross subsidy surcharge and additional surcharge are either not calculated by state commissions or not calculated accurately. This leads to recovery falling short of expenses which further stresses Discoms balance sheets. Though the open access market has started to grow, it still faces challenges. The most important is the uncertainty about the future charges for using the grid such as future open access charges and grid losses. These charges are subject to revision every year by the State Electricity Regulatory Commission (SERC). This makes assessing the financial viability of a long term open access solar project difficult and affects the bankability of such projects.
Shift from Traditional to Future Grids
The power grid is an innovation through which mankind has enabled to develop a society. The major reason alternating current (AC) power grids are complex is because they are always balancing supply and demand in real time, continuously. But, research and experts in this domain have found a solution to make traditional grid smart, engulfing an intersection of digital technology and the use of renewable energy (RE). Not just determining supply mix of fuels but the fundamental nature of the grid and the relationships among its stakeholders. Consumers installing their own solar panels have now become producers and they can also voluntarily adapt their load, if given a signal or incentive. In the old days, demand was the main aspect that varied by consumers' unilateral actions, such as by time of day or season, and the grid always needed sufficient generation capability to meet any anticipated demand (plus a margin). That's expensive. Smart grids (and even RE) are only the way out, which includes not just sustainability but also efficiency, robustness, etc. Smart systems are more than adding technologies such as smart meters and solar panels: They represent a transformation along with an ecosystem of stakeholders and their incentives.