It's the zenith of time when we keep aside the analog system trying to be devised under discreet technology. To more prudently christen the above statement, the unanimous metaphor in technology is automation, machine learning and cognitive technologies.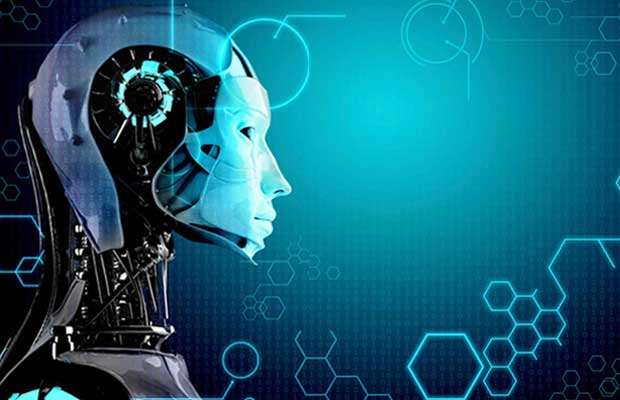 With that saying, a light note on how a robot like "Vicky" of the popular American comedy science fiction sitcom Small Wonders made us believe in the prototype embedding reality. With sun just known to give light and help us differentiate between darkness and light, the technology world has taken it seriously to enrich human and humanity. Today, solar power and advanced efficient solar panels are the exquisite examples.
In reality, a part of major utility scale control plants are picking for mechanised solar panel cleaners that are fuelled remotely and total with artificial intelligence (AI). India is in a quest to achieve solar energy target of 100GW by 2022 and it seems to be moving on the highway. On the other hand, the efficiency of the solar panels cannot be sidelined, keeping in mind India's shouting pollution emergence.
As per a report, air in India is getting greyer day by day. Air pollution levels have risen more than 13 per cent in five years. Also, about 70% of the buildings that will exist in urban India by 2030 are yet to be built. India's solar power tariff hit a new low of Rs 2.44 per unit during the auction of 500 megawatt (MW) of capacity at the Bhadla solar park in Rajasthan, setting up a benchmark in lower solar electricity tariff among utility scale plants.
Herein, the cumulative cost for O&M plays a major role in long run which might affect the tariffs and the efficiency of the solar plants. Considering the current booming scenario of AI and automation; these technologies can be a boon to tackle the issue of high cost O&M especially the cleaning of the solar panels. Nowadays, the maintenance part is taken care by using manual forces, which is costly and may have safety concerns for the manpower deployed.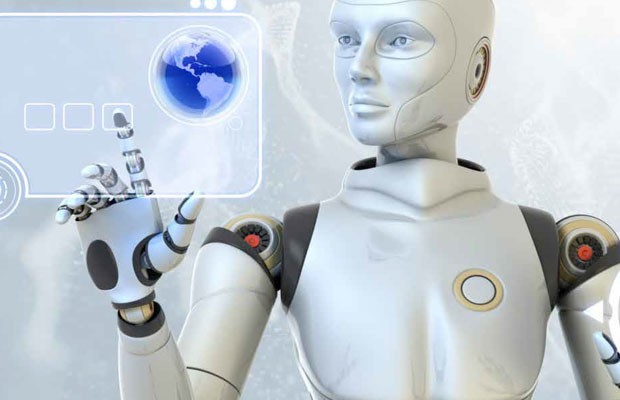 The manual cleaning procedure generally involves the cleaning of solar panel with water, which coincides with resource wastage. Council on Energy, Environment and water (CEEW) estimates the water requirements for operation and maintenance in India to lie between 7000 and 20000 litres per MW per wash, where panels are usually cleaned on a weekly basis (though this amount will vary with the scale and location of plants). According to a study, just one gram of dust per square metre of solar panel area can reduce efficiency by around 40 per cent.
Certain researches have already been carried out to find a solution which is cost effective and efficient. As discussed earlier, that O&M is one of the major concerns especially in areas where there is a dusty climate. In India, most of the solar plants installed are in desert areas and baron lands where the climate conditions aren't favourable for the solar panels. The traditional method of manual cleaning is being given the priority. As the renewable energy like solar is mostly generated in areas where there is already a scarcity of water, makes the motive of manual cleaning using water questionable.
AI in Weather Forecasting
AI can likewise be valuable in weather forecasting. Exact climate determining enables utilities to settle on brilliant choices about operations in extreme climate conditions, for example, hail, electrical storms and typhoons. AI can break down huge volumes of verifiable and continuous information from satellites, climate stations and IoT gadgets to perceive designs and foresee climate that could affect sunlight based creation. This data can permit control makers to alter as needs be.
AI likewise can be utilised to augment execution of energy plants. For example, in the event that you have 10 control plants in your portfolio, possibly eight are performing at 90% and two at 85%. AI can examine information area, framework, slants, mugginess, irradiance, maker to perceive peculiarities or issues that a human may not. Besides, AI can be utilised for prescient upkeep by learning calculations to spot irregularities and decide when a board or an inverter is going to fall flat.
Robots Accompanied with AI
An Israel based startup named Ecoppia has come up with a product E4, which is specifically built to solve the solar panel cleaning issues under O&M. Ecoppia has focused on the water usage and wastage issue and had developed E4 as a water free solar panel cleaning robot. The robots are developed in a way to be used on daily purpose without having dependent on the maintenance of the robots itself. Besides Ecoppia, GEKKO Solar robots, SolarBrush UAV and Exosun Cleaning robots are some of the innovations equipped for the better maintenance and cost effective operations of the solar panels.
What Technology Do These Robots Offer?
• The robot which was recently launched in India is sought to have special microfibre through which it can gently clean the soiled surface alone with controlled airflow over the panel's surface. It also induces gravity to ensure the dust is moved downwards and off the panels and by using this three way action the robots are able to remove 99 percent of soiling over the panels.
In order to respond to sudden weather events the robots are independent of external energy. The robots are equipped with eco hybrid technology batteries which gets quickly charged with the help solar modules facilitating the minimal use of the batteries.
Not only the automation technology is applied, the AI which is the core behind the functioning of the robot is also deployed with the technology. A smart sensor and internet connected autonomous maintenance solution is accompanied along with the device which collects weather data, and initiates cleaning as per the weather conditions. The machine learning system works to optimise its own maintenance schedule, ensuring over 99 percent availability for the lifetime on the site of installation.
AI can be also used to maximise performance of power plants. For instance, if you have 10 power plants in your portfolio, maybe eight are performing at 90% and two at 85%. AI can analyse data for region, system, slopes, humidity, irradiance, manufacturer and to recognise anomalies or issues that a human may not. Furthermore, AI can be used for predictive maintenance by learning algorithms to spot inconsistencies and determine when a panel or an inverter is about to fail.
Pragmatic, cost-effective and efficient! Each energy independent cleaning robot uses a self-maintained water-free micro fiber and airflow cleaning system to remove 99% of dust accumulation, keeping panels at optimal production 24/7/365. Already commercially deployed on a large scale in harsh desert solar parks, the robotic system is easily implemented, fully automated and completely remotely administered. By dramatically lowering cleaning overhead, while enabling a marked rise in energy output, these robots offers rapid and demonstrable ROI.
Recent Installations in India
NTPC Dadri installed Robotic Dry Cleaning System (RDCS) for the solar panels at its solar PV plant in Dadri. This is a first of its kind in India which uses robotic method of cleaning solar panels. Built at a cost of Rs 76 lakhs, the design of RDCS is from an Israel based company – Ecoppia. Most of RDCS parts are manufactured in Chennai and other parts India.
Apart from being first of its kind in India, RDCS is wireless operated, self-powered, energy independent and self-cleaned as no man power is required to clean the solar panels because robot operation with seasonal tilt is used for the same. Further, RDCS conserves water and reduces power generation loss due to soiling to the extent of 3-4 percent. Suitable for remote solar sites, the RDCS is remote monitored and managed.
Robotic Technologies and Works Across the Globe
• Water cleans the solar panels well, however in parched forsake districts, for example, Saudi Arabia, tidy and sand gather on their surfaces because of absence of precipitation, which stops up them and altogether, shortens power producing limit. Mega solar plants are frequently situated in remote betray zones, with conditions that are excessively hot for serious cleaning operations by human specialists. To reestablish panels to full producing limit, Dr. Miyake, CEO Miraikikai Inc. built up a robot cleaner with little wheels that use best-inclass sensor innovation to deftly explore whole sun oriented exhibits utilising turning brushes to flick away tidy and sand.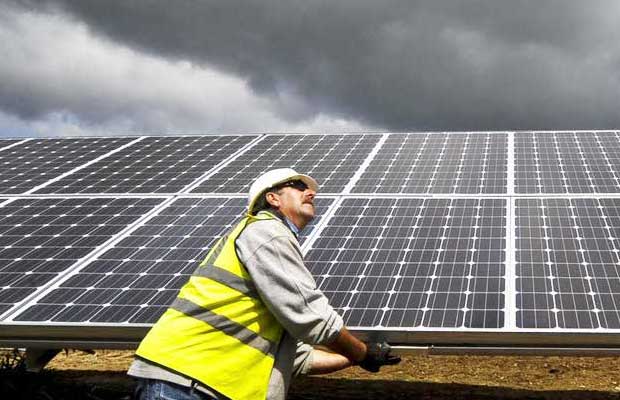 The smaller prototype SMR-640AD model, weighing only 17kg, keeps running on a Li-particle battery cartridge that gives around 1.5 hours of usable time per 3-hour battery charge. The robot alters course to move to the following line of modules when it achieves the edge of the sun powered PV cluster and flags the finish of cleaning when it touches base at the "objective" point. On location, engineers require just supplant batteries and screen the advance of the robot as it cleans. Check tests in the Middle East have demonstrated that in instances of five robots worked by one individual, these robots decrease cleaning costs by 80 percent contrasted and manual cleaning.
• Exosun, a worldwide provider of solar energy oriented products has answers for ground-mounted PV plants. The firm has built up a sans water modules cleaning arrangement that significantly decreases cleaning cost versus arrangements utilising support vehicles and water. The cleaning robot offers a leave confirmation, adaptable and plug and play answer for an easy and quick modules cleaning. This arrangement keeps away from obtaining and transportation of costly refined water in remote areas, with a tidying rate up to 5 MWp cleaned in 8 hours by two administrators.
• Robots from Sunpower, a substantial US based solar supplier has been attempting to streamline huge scale board development and support. Their new framework utilise automations to construct sun oriented clusters and an armada of mechanical cleaners to keep boards sparkling like new after they go up. The cleaners aren't waterless, yet the company says it utilises 75 percent less fluid than a manual clean and that it's ten times speedier, as well. The new "Desert garden" plants utilizing this innovation are being built now in the US and China.
• The robot GEKKO Solar is intended to clean PV panels on housetops and sunlight based ranches, which are hard to get to. It's conservative and flexible and without much of a stretch it can be moved from one place to the next. In this way, it's most appropriate for cleaning organisations, offering their support of PV plant proprietors. The robotproductivity comes to up to 400 m2 per hour. It's a decent decision for broadened housetop establishments, where cleaning by hand is not really practical.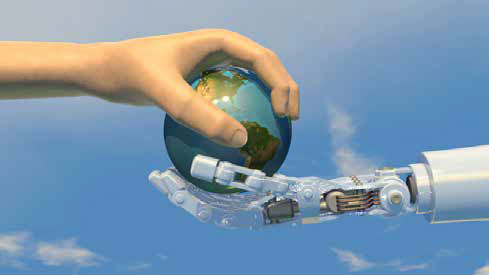 The robot cleans thoroughly by pivoting brushes, executing a consistent weight on the boards and the utilisation of demineralised water. It is normally utilised together with a portable work stage: from here, the administrator can lift the robot easily to the rooftop and control it by radio utilising a joystick and for water supply there exists a little trolley with a hose of around 100 m long. The robot is likewise suited for small solar panel homesteads with limit boards. For this situation, a help wagon providing water, electrical power and pressurised air guarantees an autonomous operation.
Expectation to Future Seems Automated?
The innovation and discovery of robots capable of cleaning the solar panels efficiently without using water is on the priority sort for the industry. As of now the industry has only focused on the utility scale solar power plants and grounded solar plants. The rapid growth of installation of rooftop solar plants has not been taken into consideration. As per a report, the year 2018 will witness more than 8 GW of solar power plant commissioning but mostly will be of smaller capacity and will be rooftop-based.
The rooftop solar power plants are usually built on small areas and the panel size are also much compact as compared to the utility one. The interesting part is that the rooftop solar panels are more susceptible to dust and responds adversely in a quick manner to abrupt weather. The company could take a step ahead and may come up with a compact and more efficient robots meant for cleaning of roof top solar panels. Artificial Intelligence (AI) could assist in achieving the future goals of the solar energy. Statistical and biologically inspired AI methods have been implemented in several studies to explore the future of solar energy.